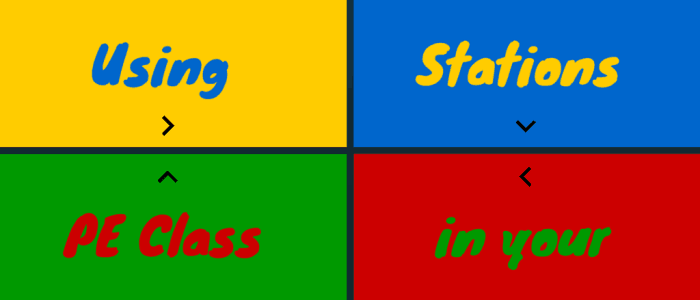 What are stations?
Stations are a great way to teach and implement multiple activities or exercises while keeping students actively engaged.  Using stations in your PE class is an alternative to whole group instruction. To implement, you create three or more stations in your gym where a different activity is to be done at each station. You then divide your class equally among the stations. Each group is given an allotted amount of time at each station. When the allotted amount of time has expired, the groups rotate to the next station and begin that exercise. If an exercise or activity is finished before time is up, then students simply repeat the activity.
Why stations – advantages?
Keeps Students Actively Engaged
By using stations in your class, your students are more likely to be continually moving and engaged.   They are either performing the current exercise or moving to the next station.
Continually Doing Different Things
Using stations in your PE class helps keep students more entertained and energized, as well allowing them to obtain a better workout. Students only perform the same activity for a short period of time, before rotating to a new "adventure". Because of this, students have less chance to become bored or distracted. By using stations, your whole class will be more focused and energized.
Manageable Groups
Using multiple stations can help PE teachers by having smaller, more manageable groups. Doing this will be easier if you have more than one teacher or teacher's aide to help watch over the students at each station.
Target Different Muscle Groups
Another advantage in using stations is that you can plan them so that each one targets different muscle groups. This could not be achieved by performing just one exercise/activity.
Any disadvantages?
More Teachers
Multiple stations can be harder to manage if your PE program only has one teacher. If you have more stations than teachers/aides, some stations will need to be more independent and less hands-on by the teacher. It is better if you have one teacher/aide per station to help supervise.
More Setup & Clean up
Preparing and setting up stations can require more setup before your class arrives than only one activity would require. However, the extra time and energy that is put into setting up the stations will be worth it once you see how much more manageable your class is.
The converse to the extra setup is also true – it will take more time and work to clean up after running stations compared to running just one activity/game.
Takeaways
Using stations in your PE class are a great way to keep your class exciting, fun and continually moving!
Your students will obtain a better workout as different muscle groups can be targeted.
Stations can help to make large classes more manageable by breaking them into smaller groups.
Using stations will require a little extra work setting up and is better if you have multiple teachers/aides to supervise students.