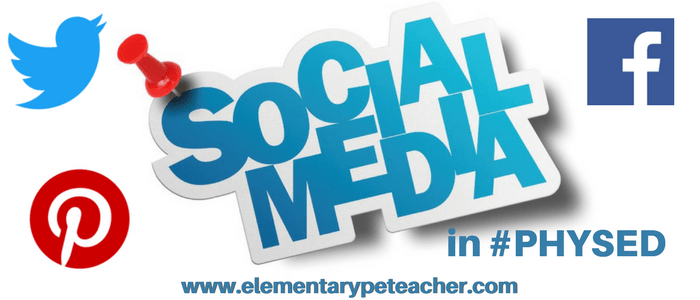 Introduction
Today's physical education teachers have many professional development opportunities available to them via social media.  The face of professional development has been changed because of the long reaching arm of the internet.  Every day, physical educators from around the world learn new things from each other on social media.  Multiple times a year, online PD conferences are held where physed teachers can watch and learn from anywhere in the world.    
Social Media in Physical Education
The various social media platforms such as twitter, facebook and pinterest offer great avenues to share and obtain physed related information and ideas.  
Twitter

Twitter is a social networking site where users interact via messages or "tweets".  Tweets are short messages that are limited to 140 characters.  Registered twitter users can post tweets, but unregistered users can only read them.  There are many PE teachers on twitter every day actively sharing pedagogies, ideas and physed knowledge.  If you have never used twitter, I would suggest using this 30 Day Twitter Challenge for Teachers to ease into and better understand it.  Once you feel comfortable, try searching twitter with the #physed hashtag to see what other #physed teachers are tweeting.  You can try retweeting a tweet that you find helpful, or send out your own tweet.  A twitter chat you should definitely check out is the Tuesday night elementary school PE chat (#ESPECHAT).  Also, you might check out this article on Building Your Personal Learning Network (PLN).
Click Here To Get A Free Twitter Cheat Sheet!
Pinterest
Pinterest contains many physical education related "pins", which are like graphical bookmarks.  Unlike twitter, you must create an account to be able to browse or search pinterest.  Your pinterest account is organized by boards that your create.  Boards are usually topics that are of interest to you.  Example boards might be travel, exercise, home repairs and physical education.  Once your account is created, search "physical education", "physed" or "PE" in the pinterest search bar.  When you find some pins that you like or are of interest to you, pin them to one of your boards.  Pinning allows you to refer back to the ideas later and also allows you to share them with other pinterest users.    
Facebook
Facebook contains physical education related groups that PE teachers post regularly to.  Examples of these are "PE Central",  "I Tweet Physical Education", "ECIS PE", "Adapted PE Specialists" and "Keeping Kids in Motion".  Also, facebook groups exist for most state AHPERD's.  By joining these groups, you will be able to post as well as see other member's posts.  To find these groups, I searched facebook for "physical education groups", but had far better results when I searched for "Artie Kamiya's groups".  Facebook groups are great tools for sharing ideas among fellow physed teachers! 
As you can probably already tell, the social media options mentioned above can be very useful networking and professional development tools.  The below video by Eric Sheninger testifies to the strength of social media and how Twitter changed his life as an educator.
Others
Other non-social media physed professional development options (both free & paid) are also available on the internet.  Most of these are websites that offer either live or recorded video and audio trainings.  A few that come to mind that you can check out are:      
Click Here To Get A Free Twitter Cheat Sheet!
Summary
The advantages the internet offers today for sharing information and professional development is nothing less than amazing.  When I think that just ten years ago, a lot of the technology we have at our disposal for sharing information and professional development didn't exist, it blows my mind.  It also makes me realize that technology is ever changing and that if we don't embrace it and keep up with it the best we can, we will be left behind.  If you know of other social media platforms that PE teachers are using to share and learn from one another, please share and post your thoughts in the below comments section!