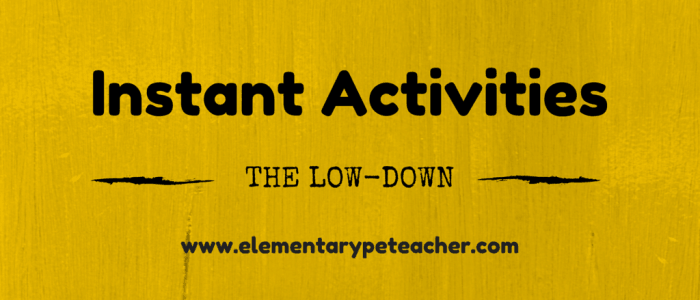 What are Instant Activities?
Instant activities are activities that students will do as soon as they arrive to PE class.  Let's face it, these kids have been sitting in class all day.  The last thing they need to be doing is sitting in your gym waiting for all the other students to arrive or for you to get situated and take roll.  You only have (insert how long your class is here) number of minutes per day to teach and get these kids moving/active!!  Whether you know it or not, every minute of PE class time counts..
So, as soon as the students walk in the door you should have one or more instant activities ready for them to start.  The activities can be written on a white board or projected on the wall for all to see as they enter.  Instant activities should include very little teacher involvement as this provides time for you to take roll and finish any class preparations or get organized if you aren't already – you are organized, right?  The activities should involve every student, they should be safe and should keep an increased level of activity for all the students.  When the instant activities are over, students should meet in a certain area of the gym knowing that it is time to be quiet to learn instructions from the PE teacher about that day's lesson.
Start Simple
Instant activities can be as simple as having kids walk (at an accelerated pace) the perimeter of the gym while possibly listening to music.  When the music stops, so does the activity.  As students and teachers get comfortable with this format, additional activities can be added that align with the current curriculum you are teaching.  Once comfortable with the additional activities, multiple stations can be added allowing students to rotate from one activity to another.  It is also helpful to pre-teach these activities so as to waste as little class time as possible.
In my PE classes, it really depends on that day's lesson I have planned as to whether we do or don't do instant activities.  If we have equipment laying all over the gym floor ready for the day's lesson, we typically won't do instant activities on those days.
Examples
Below are a few instant activities with descriptions that I use in my PE classes:
Handkerchief Snatch:
Students each receive a scarf when they enter the gym and are to poke the end of it into a pocket. They then run around the gym, trying to "snatch" the handkerchiefs from others and letting them fall to the ground. Once a student's handkerchief is snatched, the "owner" must stop, pick it up and poke it back into their pocket.  They then resume playing the game.
Rock-Paper-Scissors:
Divide the gym into two halves.  Students play a game of rock-paper-scissors with a partner.  They play rock by jumping four times, landing with feet together and arms to their side.  To play paper, jump four times landing with feet apart and arms to the side.  Scissors are played by jumping four times, landing with feet spread apart front to back.  If they win the round, they move to the right side of the gym.  If they lose a round, they stay or move back to the left side of the gym.  Students should rotate partners for each round.  Below is a youtube video of rock-paper-scissors being played:
Give and Grab:
Students partner up and face each other in a push-up position. One partner has 2 beanbags—one beside each hand. They will pass each bag, one at a time, to their partner, who in turn will pass it back (for a total of 5 passes each).
Push-Up Hockey:
Students partner up and face each other in a push-up position. One partner has a beanbag and will try to slide it between their partners hands, who will try to stop the bag from passing through his/her arms.
Dribble Tag:
Students get a basketball and begin dribbling the ball.  While dribbling, they try to push the basketball out of another person's hand.
Possibilities are endless
With instant activities, the possibilities are endless.  You can decide how students will progress from one activity to another.  For example, you could direct students that after playing rock-paper-scissors three times, they are then to move on to then next corner instant activity which might be push-up hockey or something the student can do individually.  Or after winning rock-paper-scissors three times, they are then to move on to the next activity or they could be directed to sit in a certain area of the gym to await instruction on the day's lesson. Ultimately, what activities are done and their progression is up to you – the PE teacher.  Instant activities can be an awesome way to start your students PE class time and get them going from the moment they walk through the gym door!!