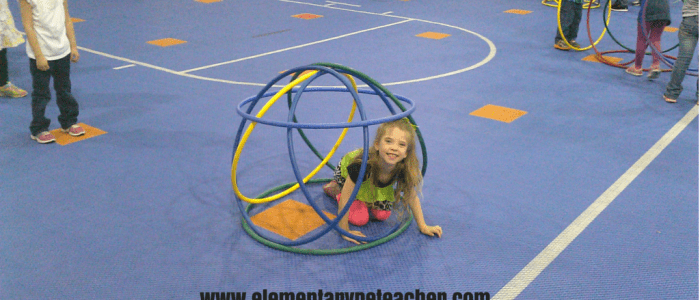 This week's post is on the awesome Hula Hut Relay activity by J.D. Hughes!!  Hula Hut Relay can be found in J.D.'s book No Standing Around in My Gym: Lesson plans, games and teaching tips for elementary physical education.
Overview
In this fun activity, students work together to build a hut out of hula hoops and attempt to crawl through the hut without knocking it down.  The first team to make it through without knocking the hut down wins.
Build the Hut
Before the activity begins, you should demonstrate how to build the hula hut to your students.  Place one hula hoop flat on the ground – this will be the hut's foundation.  Next, stand two hula hoops up on the inside of the foundation, but on opposite sides.  Lean the tops of the hoops at 45 degree angles until they touch.  Next, do the same with two more hula hoops (stand them up on the inside of the foundation) but from opposite sides of the first two hoops.  Then, lean the tops of these two hoops together at a 45 degree angle over the tops of the first two.  Next you will place the last hula hoop (the roof) over the others (the walls) to hold them in place.
Start the Relay
To start the relay, group four to eight students per team.  Each team is given six hula hoops.  When the start whistle is blown, each team works together building their hut as fast as they can.  As soon as a team completes their hut, each team member must crawl all the way through, in one side and out the other, without knocking the hut down.  If the hut is knocked down, the team must quickly rebuild it and then attempt to get each member back through without knocking it down.  The first team to build their hut and get everyone through without knocking the hut down is the winner!
Mix it Up
To mix it up some, as J.D. mentions in his book, you could blindfold a couple of members of each team.  This will make it more difficult for those students to traverse the hula hut and will require a lot more verbal communication from their team mates.  Another method that might be fun (as well as difficult) would be to have each student try to crab walk through the hula hut.  If you have tried different hula hut relay variations that you would like to share, please post them in the comments section below for others to see!
Sources
https://www.teacherspayteachers.com/Product/No-Standing-Around-in-My-Gym-Lesson-Plans-Games-Tips-for-Physical-Education-395727
https://www.teacherspayteachers.com/Store/Pe-To-The-Max-By-Jd-Hughes