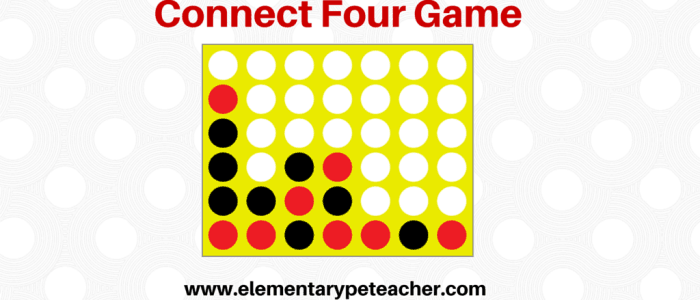 Introduction
Most physical education teachers have played or are at least familiar with the popular Connect Four game of their childhood.  In this fun connection game, you try to beat your opponent by being the first to line up four of your game pieces in a row.
Today's PE game/activity is based off of that board game, with a couple of variations.  One change is that the students are used as the game pieces.  Another addition is that some physical activity is required.  🙂
Objective
The overall objective of this game is to allow your students to get some exercise while at the same time having fun.  However, there a couple of more specific objectives I will mention:
To practice and to improve accuracy in shooting a basketball into a basketball goal
To increase cardiovascular fitness
Equipment
The equipment needed for this activity are: flat or round hoops, 2 basketballs, 2 goals, 4 team cones, 2 sets of jerseys
Description
You will need to setup two connect four game boards on each side of your gym floor.  Forty-two hoops will need to be placed on each side of the gym – seven rows across and six rows deep (if you don't have enough hoops, poly spots or even masking tape could be used instead).  Two teams play on each side of the gym for a total of four teams.  One team on each side will wear jerseys and the other team will be called shirts.
The students will be the tokens or game pieces in the game.  In order to put a token on the board, a student must shoot a basketball into the basketball goal.  If the student rings the basketball goal, he or she can go stand on the game board (inside one of the hoops).
If the student misses the shot, he or she must jog one lap around the gym perimeter and then get at the end of their team line.  If you desire, you can change the activity (jogging around the gym) to something else or even change it to a skill your class has been working on lately.
Every time a student rings the goal, a token (a student) is added to the board.  When a team gets four tokens in a row, whether horizontally, diagonally, or vertically, that team wins.
Summary