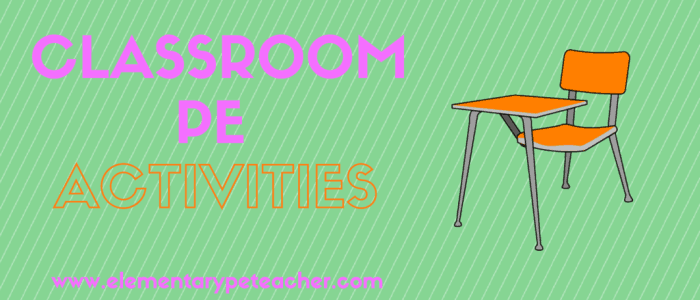 I have received requests from fellow physical educators regarding PE activities that can be performed in a small space – such as a classroom setting.  Some teachers aren't blessed with a gymnasium and have to hold their classes in classrooms, lunchrooms or any open space they can find.  To assist these teachers, below are activities that would likely work in small spaces.  However, keep in mind that every classroom or small space is different and you will have to experiment to see what works best for you.
Roll The Dice  
For this activity, you will need clear pocket dice.  These large dice can be purchased on the internet relatively cheaply.  In each pocket of one dice, insert a note card or piece of paper with a different activity listed.  Examples of activities might include push-ups, curl-ups, jumping jacks, run in place, etc.  On the other dice, mark a number on each card – one through six.  To increase the number of repetitions, use five through ten!  Make this a game where the students are in groups and take turns rolling the dice.  Whatever side it lands on, that is the activity the group performs.  Also, they perform that activity the number of times that the other dice shows.
Four Square  
Four square is a smaller version of the popular nine square game.  With four square, you are able to have (you guessed it), four people playing at the same time.  If the space in your classroom or area allows, you could have multiple four square areas for two groups to play simultaneously.  To make your four square area, mark four connecting squares on your classroom floor with masking tape.  The typical square size for elementary aged four square is 5 feet by 5 feet.  Since the tape won't interfere with anything, I would leave it down on the floor – even if there are desks or tables in the room.  That way, you can quickly move the desks and your four square courts are ready to play!  Four square is a fun game that your students will (or already) love!  If you have never played before, the rules are simple and can be found here.
Crab Crawls  
Crab crawls are great for conditioning and strengthening the core.  Have students crawl around the classroom on their hands and feet like crabs with their belly extended into the air.  You can make it fun by having obstacles (desks, chairs, etc) for them to have to crawl around.  For added fun, play a game called "Pickup the Jewels".  Place small objects around the room on the floor.  The crabs are to pick up the "jewels" off the floor and balance them on their bellies while crawling to a "treasure chest" to deposit the jewels in.
Fitness Station Lines  
Fitness station lines are fitness stations that are organized in lines or rows one after another.  This makes a perfect activity for a classroom or other small area.  Organize squares or poly spots in lines across the room (just like desks would be lined up).   Have your students line up and stand on a square or poly spot.  Each row will have a different fitness activity assigned to it.  Have the students perform the activity designated for their row for one minute.  When the minute has expired, on signal, students move forward to the next line and perform that row's designated activity (students in the front row move to the rear row).  Continue this routine until all students have moved through the exercise stations one or two times each.
Foam Noodle Activities  
The below great youtube video from Gilbert Bagaman shows how foam noodles can be used indoors for all kinds of awesome activities that help students to develop balancing, hand-eye coordination and teamwork skills.  Aside from that, these activities are just plain fun and your students will love doing them.  As Gilbert suggests toward the end of the video, when students are balancing on foam noodles, it is best to do it on mats, grass, carpet or some other cushioned surface to provide stability as well as prevent injury.
Perimeter    
The below video by Brian Lewis shows how to have your students perform an activity called Perimeter.  Perimeter teaches teamwork in moving an exercise ball around the room on the wall using students feet to keep it on the wall.  This video was shot in a gym, but this activity will work in a classroom setting as long as the walls are clear of desks or other furniture.  You could add a twist to the activity by timing groups of students to see who can move the ball around the room quickest.
I hope this post has given you some ideas of activities that you might be able to use in a classroom or other indoor setting.  Just remember that you will need to experiment a little to see which activities will work best in your environment.  With a little imagination, you can add your own spin to some of the above to create new fun indoor PE activities!
Sources
http://www.educationworld.com/a_lesson/rainy_day_physical_activities_school.shtml
https://btsafun.wikispaces.com/Indoor+PE+Activities