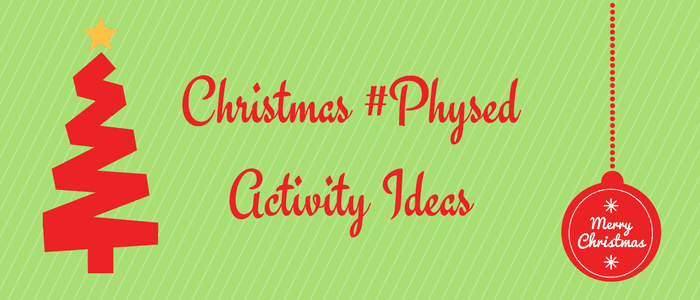 Merry Christmas physed folks!!  Since it is that special time that only comes around once a year , I thought I would give you some fun Christmas activity ideas to use the last few with your classes.
Music
Christmas would not be the same without all of the season's festive music!  So, below is a 16 song Kidz Bop Christmas playlist that you can play during your classes:
 If you aren't into Kidz Bop, below is a 19 song Spotify physed Christmas playlist with some great songs:
Dance
Here's your next Christmas activity idea!  The last days before Christmas break is a great time to introduce some fun festive dances to your students.  Dancing is good for getting heart rates up and lungs breathing O2!  Below is a Just Dance Kids
2 video of Crazy Christmas – Santa Clones.  Your students will probably enjoy these videos because Just Dance Kids
is actually a video game!  This video starts off slow but then picks up speed towards the end.  Challenge your students to see if they can keep up with the video.
Here's another Just Dance Kids
2 dance video – Jingle Bells.  If you watch it, you can tell this dance is a video game, as you will see all the extra on-screen sounds and movement.  I am sure your students will like it – if nothing else because it reminds them of a video game!  I like that these videos show the dance movements that are coming up next in the bottom right hand corner of the screen – that is helpful for students to learn the dance.
Stations/Activities
Below are Christmas stations called "Saving Our Santa" by Bart Jones at Van Meter Elementary school.  The stations are Feeding the Reindeer, Delivering Toy Supplies, Protecting the Workshop and Stress Release.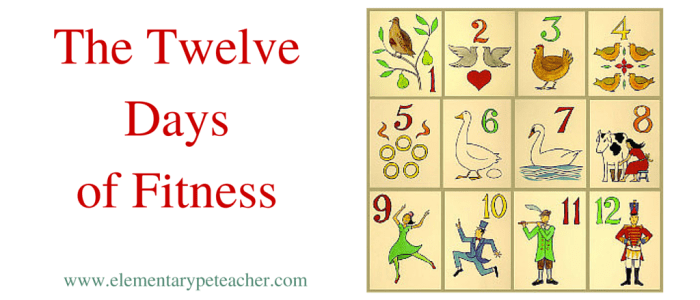 Another fun Christmas activity that is based on the Twelve days of Christmas carol is the Twelve Days of Fitness.  In this activity, you (or your students) are to come up with a list of fitness exercises that are used in place of the gifts in the carol.  Try to make sure the more difficult or strenuous exercises are used earlier in the list of 12.  If possible, it would be nice if the list of 12 exercises were displayed on a projector.  Then you and your class sing the Twelve Days of Christmas carol substituting each gift with the corresponding exercise in the list – while performing each exercise!
I hope the above Christmas activity ideas will help keep your physed classes moving and having fun the last few days before Christmas break.   I wish you all a relaxing and veryMerryChristmas!!