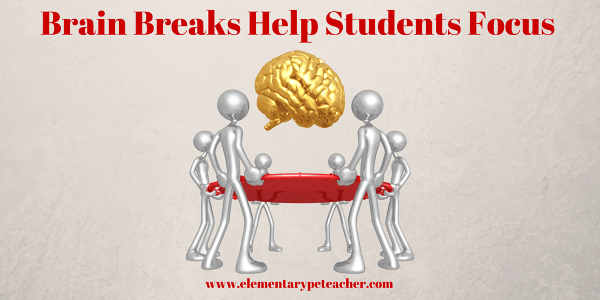 What are Brain Breaks?
Brain breaks are essentially a few minute break taken during normal class time (not PE) when the students are to get up and perform some type of physical activity to increase their heart rate.  Researchers have shown that when children perform some type of physical activity right before taking a test, they are able to concentrate more and their test scores usually increase on average by 10%.  That is pretty awesome!
It makes sense
When you stop and think about it, it does make sense..  Get the students up and moving periodically, increase their heart rate, which will in turn increase the oxygen that is sent to their brains.  By doing this, they can't help but to be more focused and have better concentration.
I would be interested to know how many physical educators teach at schools that are regularly doing brain breaks in normal classrooms.  If you are one of these schools, please leave a comment below in the comments section and tell us about it.  If you liked this post, please pin it or share it on twitter and/or facebook.  Thank you!!
Sources:
http://www.parents.com/kids/development/thrive-in-2025/active-learners-why-kids-need-pe/
http://www.actionforhealthykids.org/what-we-do/programs/game-on/about-game-on/get-involved/640-brain-breaks-and-energizers